Facilities Available
Bottom Pouring Stir Casting Furnace
Adjustable Melting Temperature with digital Indicator
:
100 – 1000° C
Variable Stirrer Speed arrangement with Digital Indicator
:
100 – 1500 RPM
Preheating Reinforcement Furnace with digital Indicator
:
100 – 500° C
Motorized Bottom Pouring closing/ opening set up with Inert Atmosphere Motorized Stirrer Height Adjustment
Capabilities: Preparation of Aluminium Matrix Composite, Nano Metal Matrix Composites, Hybrid Composites & Hybrid Nano Composites.
Pin on Disc Wear Testing Machine
Conforms to the specifications of
:
ASTM G99
Sliding Speed Range
:
0.26-10 m/sec
Disc Rotation Speed
:
100-2000 rpm
Maximum Normal Load
:
200 N
Wear Track Diameter
:
10-140 mm
Frictional Force
:
0-200N
Wear Measurement Range
:
4 mm
Pin Size
:
3-12 mm diagonal/dia
Disc Size
:
160 mm x 8 mm thick
Capabilities: To measure friction and wear testing on a wide variety of materials such as metals, Polymers, Composites, Ceramics, lubricants, Cutting fluids, Abrasive slurries, Coatings, and Heat-treated samples
Vacuum Bag Casting
Mould Size
:
270X 270 mm
Vacuum Film
:
55 Micron thickness
Vacuum Film
:
1000 mm width
Breather cloth
:
1mm thickness
Peel Ply fabric
:
1000 mm width
Sealant Tape
:
10mm width
Spiral wrap
:
12mm Dia
Perforated Release Film
:
1000mm width
Capabilities: Fabrication of Glass/Carbon/Natural fiber reinforced composites and Hybrid composites
Metallurgical Microscope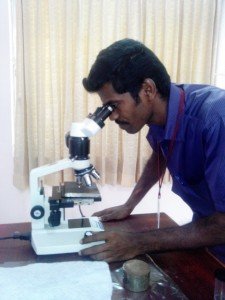 Focusing Range
:
40mm
Interpupillary Adjustment Range
:
55 – 75mm
Mechanical Tube Length
:
160mm
Eyepieces
:
WF10X (18mm), WF16X (11mm)
Illumination
:
halogen lamp, 6V/20W
Stage Dimensions
:
180x145mm
Stage Traveling Range
:
30x70mm
Video Trinocular Port
:
23mm
Vernier Division
:
0.1mm
Head
:
30 degree
Capabilities: To analysis micro structure of materials such as metals, Polymers, Composites & Ceramics.
Research
Synthesis, Characterization and testing of various Nano aluminum metal matrix
Synthesis, Characterization and testing of fiber reinforced composites
 Consultancy and Testing
Development of materials for the specific application
Providing consultancy and services industries / Academic institutions
Technology transferring to the industries
D/M.S/M.Tech/M.E/ B.Tech/B.E/MCA/ Project works
Ongoing Research Projects
Impact response and damage tolerance of hybrid fiber reinforced composites
Effect of fiber form on impact response and damage tolerance of composites
Mechanical characterization of hybrid composites
Experimental study of fiber design composites
Experimental study of Different sandwich composite structures
Fabrication and characterization of aluminium nano metal matrix composites
Tribological characterization study of nano metal matrix composites
---
Members of the Center
Note: For Consultancy & Research Work Contact
Research Head:
Dr.R.Sasikumar,B.E., M.E., Ph.D.
Professor & Dean – Research, Department of Mechanical Engineering, Selvam College of Technology, Namakkal- 637 003, Tamil Nadu.
Phone No. : +91 4286 645602, Mobile No : +91 8903609939
Email id  : deanmech@selvamtech.com
Full Time Research Scholar:
Mr. A. Manivannan – 9677311457
Mr. M. S. Santhosh – 9942925241